The Jute Story: Batching
---
PART 3 / 5
From the growing sites, the raw jute arrives for processing at the yarn mills. This begins with the hackling, grading, batching and piling.
Raw jute Morah bales commonly arrive at the yarn mills stacked onto colourfully painted trucks a Mad Max movie director would die for. Still running after decades, I note amongst them vintage British models and Indian TATA. Drivers stack their loads in a manner western traffic police would stop and arrest for and strap the contents down under tarpaulin.
Finding our yarn mill wasn't easy. The mish–mash of Bangla bôrṇômala script is impossible for me to read. Asking pedestrians out of the window for directions, we'd only passed the discrete entrance by a few hundred metres. So naturally, our driver made a U-turn on our side of the 3–lane highway, separated from the correct side by a concrete centre divider section, and we drove back against the flow of traffic, honking like crazy all the way. I was so glad to be wearing brown trousers.
Our supplier mill operates with 2,700 employees on a 12–acre site, producing approximately 100 tonnes of yarn per day, 365 days per year in a 24/7 3–shift operation. Only 100% Tosha jute is purchased, with no typical inferior Meshta blending. All products are for high–quality applications. After meeting their team, the Chairman and Vice–President explained the history and operation over tea and cake before we headed out from the air–conditioned boardroom for a tour in the high humidity.

The first stop is to the landing stage on the Shitalakshya river, a distributary of the Brahmaputra, where the raw jute arrives by barge. Then it's on and into the huge incoming Morah storage sheds. Thousands of tonnes of raw jute bales, all folded and stacked, even at the end of the 2021 season stock. What struck me immediately was the lack of jute dust, to be told by the Chairman that dust does get progressively worse with lower quality material at the bigger mills producing yarns for low–end applications, such as sacking, medium and heavy Hessian cloths, and carpet backings.
We then went through to where several labourers were hackling over a rectangle of evil looking metal spikes mounted in a metal base. The hacklers open the Morah, and cut off the root end containing most impurities with a machete on a wooden tree stump block. The root waste is sold to other mills and used for the lowest grade yarns. Everyone wore facemasks, not for dust, but for the factory's current strict COVID policy.
The filaments are then manually thrashed over the spikes several times to dislodge remaining lesser impurities, until most are gone. But this is like any other agricultural material, and expecting to get rid of all of them is impossible without incredible technical advancements and mechanisation. In my mind I was dreaming up machine vision and laser scanning. But this would pump up the price for the product astronomically.
As the hackling continued, the spikes and blocks were moved closer to the next column of stacked Morah bales, while the hackled material was graded and loaded onto carts. From here they're hauled round to the batching hall for various yarns depending upon their grading.
In the batching hall, I was surprised by the smell – slightly sweet. Because this mill only uses locally produced high–quality non–rancidifying 100% Vitamin A and D fortified cold–pressed soybean oil, there was none of the stench associated with the white petroleum of mineral JBO. Again, the Chairman pointed out that in larger mills using JBO, the fumes can be overpowering. Obviously, I was more than pleased, knowing no contamination was possible there.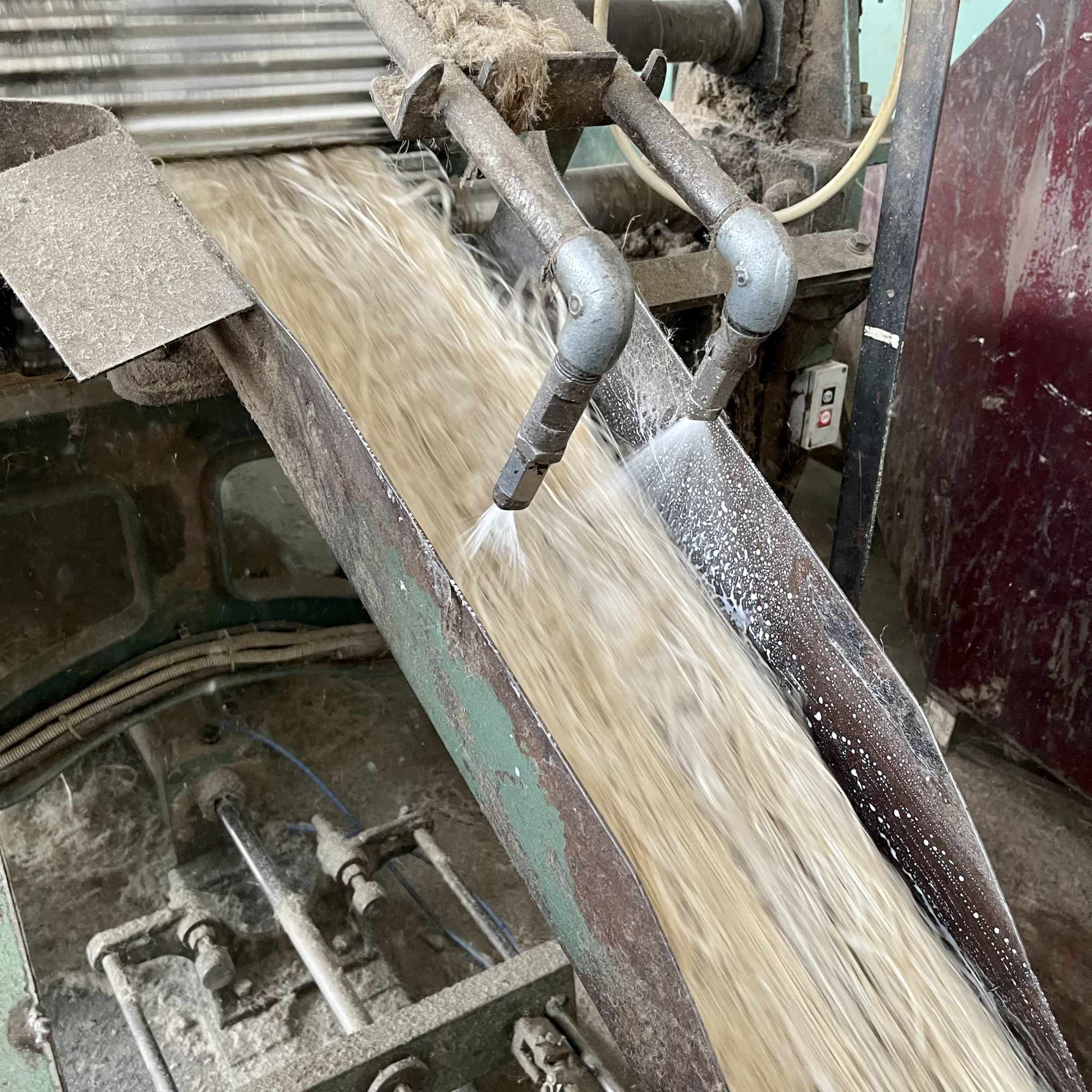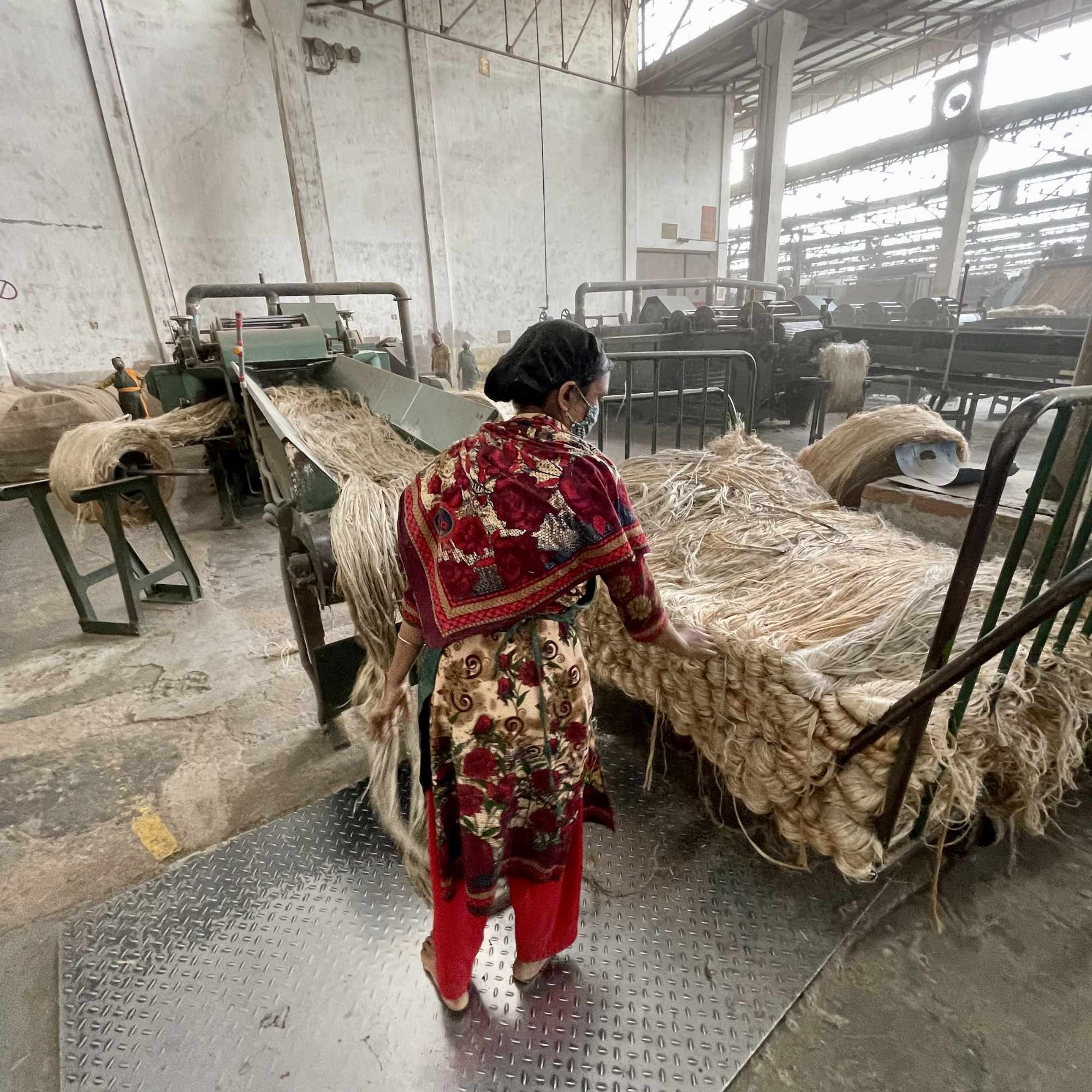 Filaments are unfolded from the cart and loaded lengthways on the batching system by a barefoot female operator, which then conveys them through a series of rollers to produce a 'river' of fibre 40cm wide. At the end, 2 spray heads deliver water and oil separately. No emulsifier is used at this mill.
The machine rolls the resulting band of wet jute into a 1.2m diameter reel, which, when full is then brought back around, and fed again into the system from the sides to blend with more raw jute. This happens several times in order to produce good penetration. When a reel is considered completely batched, it is surrounded in a steel ring, rolled to the piling area, and covered in thick jute sacking material to hold in the heat.
Every mill develops its own techniques to produce yarns specific for its catchment market. Most will pile JBO batched jute for 48 hours enough to soften for the following stages. VOT batched fibre can take over a week to be considered soft enough, depending on the oil used, which can be palm, castor, rice bran or soybean. It was explained that multi-stage batching with higher, expensive liquid volumes, and then retention in the steel rings under thick sacking cloth accelerates temperature, and cuts piling to 72 to 84 hours.
©AMATSUNAWA GmbH 2022