"Rope butter" Recipe
---
and instructions on how to make it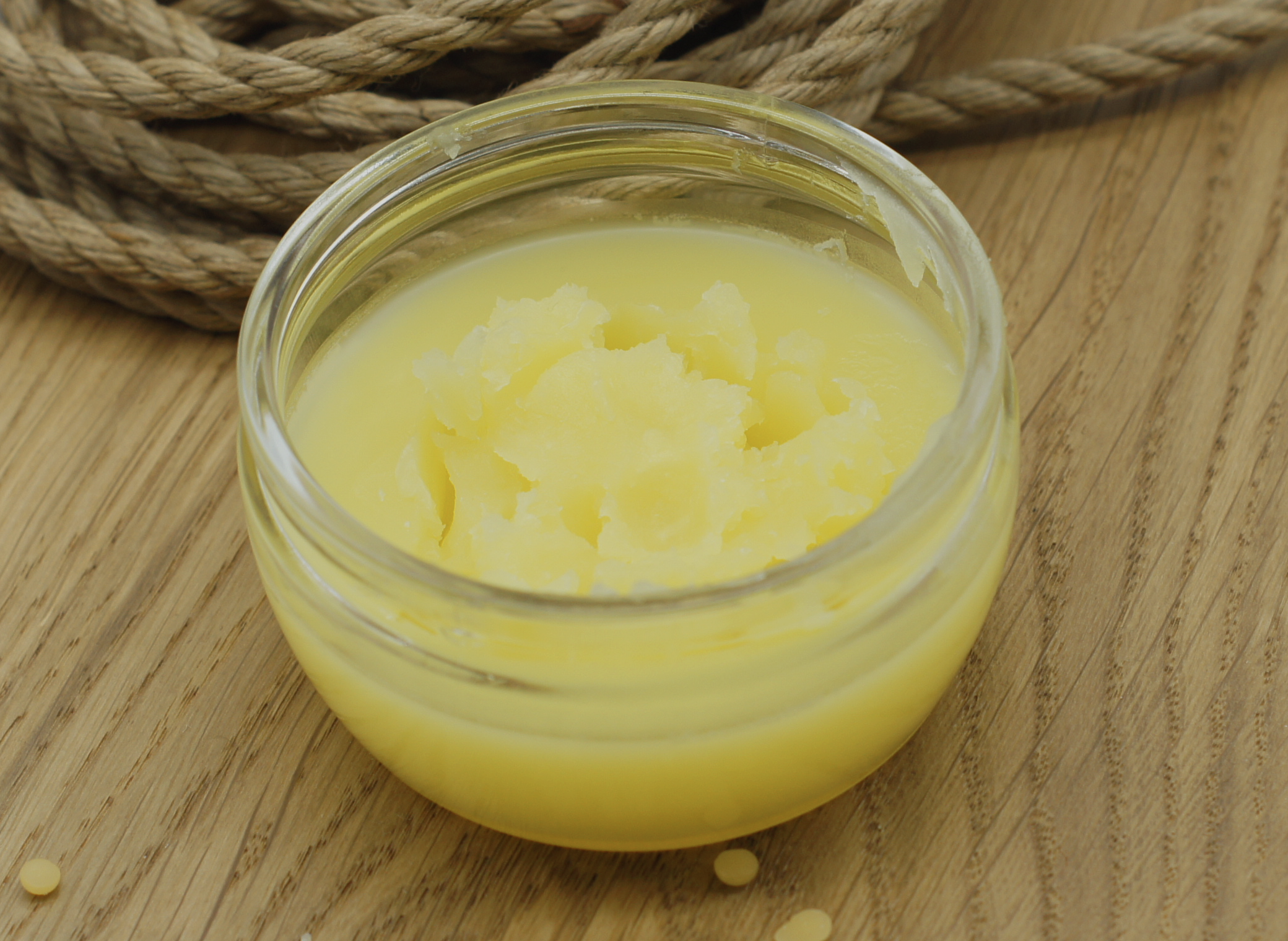 How to make your own "rope butter" to be used during the rope conditioning process
Preparing the "rope butter"
Before you can condition your raw jute rope, you'll need a butter to soften the rope during the process. The butter consists of a blend of oil and wax. So, let's start with the butter.
This is our recipe and instructions for making a "rope butter" for conditioning raw ropes and, if required, to care for dry used ropes.
Ingredients for a 250ml jar:
75g – 100% pure beeswax (cosmetic grade)
175g – cold-pressed jojoba oil (base oil for natural cosmetics)
If necessary, you can double or halve the specified amount, etc., but the ratio should always be 7:3 (oil/wax).
Remember: One of the important points is how more oil to wax ratio makes the rope feel greasy, and more wax to oil ratio makes it feel sticky. So, finding the right balance is key, especially if you use alternative ingredients.
How to make the butter:
Melt the beeswax and jojoba oil in a heatproof bowl over a water bath at the lowest possible temperature. Stir occasionally.
When the beeswax has melted, remove the bowl from the heat and stir for about 2 more minutes until the mixture has cooled slightly and is well combined.
Pour the warm butter into a tightly sealable screw-top jar and leave to cool at room temperature.
When the mass has cooled, you should have a light yellow, firm, supple butter to condition your ropes.
Shelf life: It corresponds to the shelf life of the raw materials used and depends on the hygiene during preparation.
Storage: Store the butter at room temperature away from light and use as needed.
Dosage: We recommend approx. 2 - 3g butter per kg of rope, or a hazelnut-sized amount for an 8m rope. As part of the rope conditioning process, add the butter to the rope as a lump in the 2nd dryer cycle or distribute it in the palms of your hands to care for used ropes and pull the rope piece by piece through your hand to coat the rope evenly.
Alternative raw materials:

We have heard of the following alternatives to jojoba oil, but have NOT tested them ourselves, so we cannot make any statements about the end result.
Almond oil
Tsubaki oil
Bayu (horse oil)
Whatever oil you choose, we recommend making sure to you use an oil/wax that has a long shelf life and is not prone to rancidity. Rancid ropes are no fun.